By now we all know that success in the modern age means being present on social media. With the latest stats indicating that "digital channels are continuing to see a year over year increase of no less than 100 million in terms of monthly active users.", simply having a presence on digital is key.
With so many platforms available; Facebook, Instagram, Twitter, and Tripadvisor, to name but a few, should you be promoting your business through every channel possible? Or for hospitality businesses, such as hotels, spas and restaurants, do certain platforms perform better than others?
While you should build a presence that spans across all the major digital channels, some social media platforms do outperform others when it comes to connecting hospitality brands to their target customers.
Choose visual channels for a visual industry
Brands within the hospitality industry are visual by their very nature, from exquisitely presented plates of food to incredible architecture and photogenic surroundings. This visual nature means that platforms with a stronger emphasis on visual content perform better in this industry.
While all social media platforms do cover visual content to some extent, Instagram and Facebook generate the highest engagement rates when it comes to showcasing high-quality imagery of your establishment and its offering.
Instagram particularly is the king of visual platforms. According to a study by Web Strategies Inc, "Instagram is by far the most engaged social platform for brands, with 2-7% percent of users interacting with each post".
2-7% may not sound like a huge amount, but when your Instagram account has 1000+ followers, this could mean that up to 70 followers pay attention to each post, absorbing your imagery and clicking through to your profile. If just one of those users goes on to become a conversion, this represents a decent return on investment.
Use Instagram effectively
Instagram posts can be optimised to get the most value by attaching some relevant and popular hashtags to the photograph, aiding user discovery, and connecting you with a larger, engaged audience. Some of the popular hashtags that hospitality brands can make the most of include:
#travel
#instafood
#landscape
#luxury
#travelgram
#instatravel
#tourism
#beautifuldestinations
But always do your research and choose the most relevant hashtags that draw in the highest volume of traffic, and are consistent with your brand and the contents of the image itself.
As an image-led platform, Instagram posts with minimal text in the caption perform best and lead followers to focus on and react based on the image itself.
Make the most of Facebook
Facebook is a little different. While the platform still offers the opportunity to showcase photography, users are more inclined to read the accompanying text, meaning you can and should include more information to accompany Facebook posts. For this reason, Facebook provides a perfect balance between capturing attention with high-quality imagery, while drawing people in and encouraging conversions through a description of your offering.
Facebook also performs better when it comes to driving web traffic, offering the opportunity to include links that take users to a relevant area of your site (such as a booking form or menu), whereas Instagram currently lacks the ability to include direct web links within its post captions.
Use targeted advertising
Targeted adverts are a great way to ensure you connect with the right audience, and are a great tool for hospitality businesses with a broad offering (such as hotels offering spa facilities, wedding packages, dining, corporate hire, and so forth) who want to promote and push a specific service or event without flooding their profiles and drowning out the others.
The best social media platform to connect you to relevant users this way is Facebook. Its wide range of campaign options, the opportunity to create split ad tests, and the highly specific demographic options available through Facebook ads manager make this platform a powerful and underutilised tool. Targeting a specific audience this way means you're speaking directly to users that are much more likely to engage with your content, make bookings, and ultimately become brand advocates.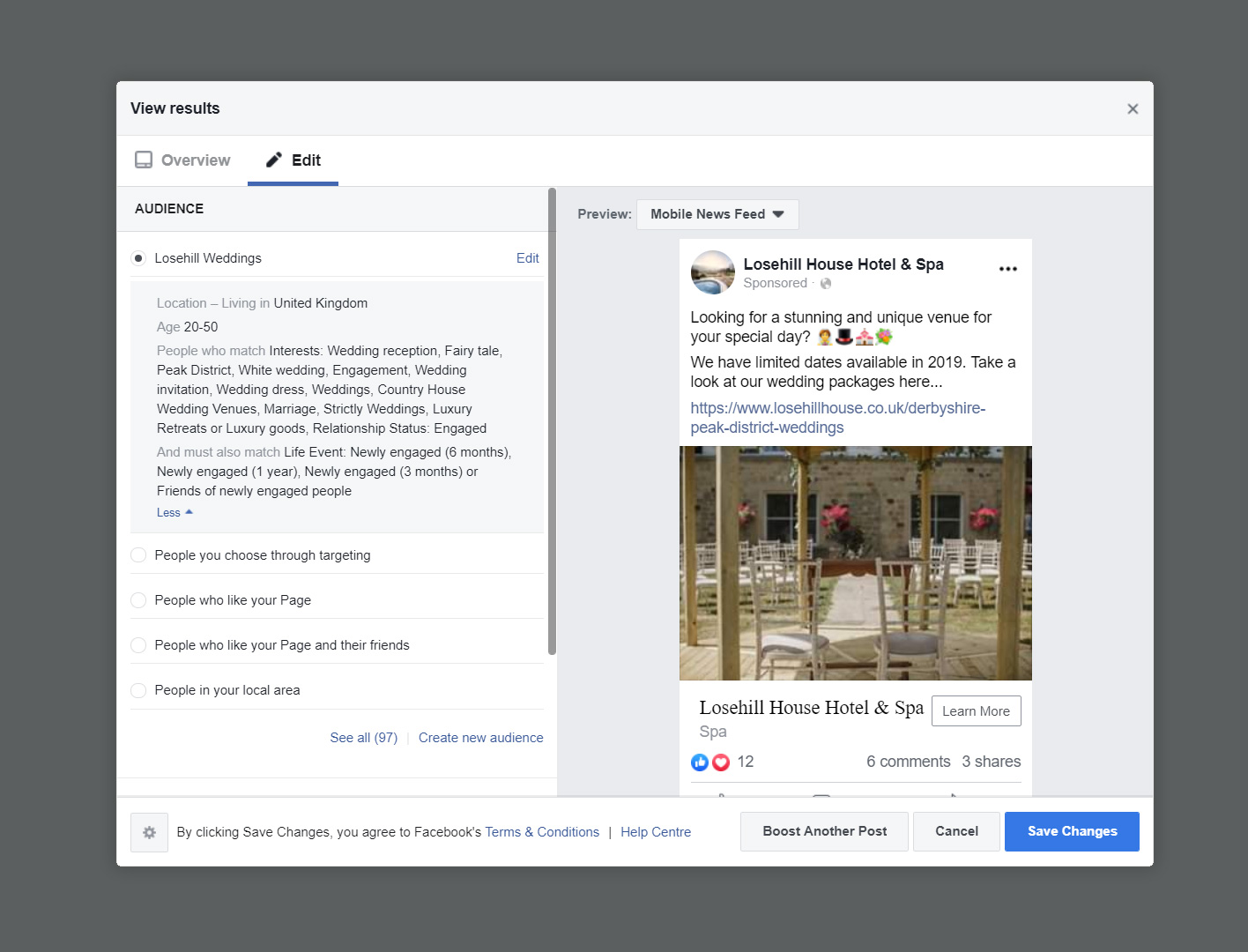 Using these powerful tools, Losehill House Hotel & Spa were able to push content promoting their wedding packages directly to their exact target audience: those matching criteria such as an "engaged" relationship status and an interest in luxury or country wedding venues.
Capitalise on reviews
Online reviews have changed drastically in recent years, with Facebook, in particular, making changes that work in favour of hoteliers. Moving away from star ratings, users are now asked to leave 'recommendations' for brands and businesses. This change means that unfair ratings for things that may have been out of your control are discouraged and will no longer risk hurting your reputation.
These new developments allow businesses to benefit from more positive recommendations from visitors, showcasing the great customer service you uphold.
Even if a negative review is posted it won't hurt your overall rating, and if potential customers see that you've responded well then this can work towards encouraging them to become conversions.
Taking its review features into consideration, the importance and power of the Facebook platform is clear to see.
Don't forget TripAdvisor
While you may not view TripAdvisor as a social media channel, it is an important platform that has also changed recently. In this case, more tools have been added to allow users to interact with one another directly rather than only interacting with businesses, putting more emphasis on the community aspect.
With your future customers out there looking for travel and leisure recommendations on this fast-moving, ever-evolving platform, it's more important than ever that your business is present, attractively presented, and engaging with customers.
The best platform for you
The best platforms for your business will differ based on your particular requirements, aims, and critically, your chosen target audience. For hospitality businesses, Facebook, Instagram and Tripadvisor are without a doubt the most powerful tools available and should be used wisely. Remember to post quality visual content and ensure your posts lead to a call-to-action in some shape or form. Know your target audience and use advertising budget to reach them with your offering. Capitalise on user reviews and ultimately aim to engage followers and reviewers.