Over 55% of workers who also work remotely (either occasionally or full time) struggle to concentrate in the office for at least half an hour each day, according to a new study conducted by Guestline.
People are therefore losing an average of 116 hours of work per year, which equates to almost 17 working days, due to a dip in productivity within their working environment.
The study conducted by Guestline surveyed 2,000 people in the UK to understand what it's like to work remotely and use co-working spaces. The statistics unveil the challenges people face when co-working and the growing shift in what remote workers desire.
It seems that the answer to these problems could be a space that we might not immediately associate with work, but which actually provides an ideal environment for modern-day employees – hotels.
With 40% of people claiming that their company/industry is supportive of them working outside the office in a co-working environment, the number is only set to rise.
Where are people already using hotels as workspaces?
When looking at which cities are leading the way in terms of how many people currently use hotels as co-working spaces, Cardiff, Leicester, Sheffield, Worcester, and Wrexham come out on top.
In taking a closer look at the specific roles and industries these people work in, the survey revealed that those involved in information research analysis, business and management, hospitality and events, and engineering found hotels the most beneficial for co-working.
Workers in Birmingham are the keenest to use hotels as co-working spaces and said they'd take advantage of this offering if it was available.
The figures suggest those same people might be happier in hotels. With the nation's hotels offering comfortable, quiet, and well-connected environments, there's a clear opportunity for them to begin marketing themselves as co-working spaces.
What do people value most in a workspace?
When people were asked what their most important factors were to choose a co-working space, the data revealed that it's all about providing an environment that runs smoothly:
| | |
| --- | --- |
| Ranking | Factor |
| 1 | Internet Speed (43%) |
| 2 | Quietness (38%) |
| 3 | Comfortability (35%) |
| 4 | Facilities [Sockets, printing, seating etc.] (28%) |
When asked what annoyed them the most in co-working spaces, respondents said that 'people talking loudly' was the most irritating factor, followed closely by a lack of privacy and uncomfortable seating.
Hotels vs coffee shops
Hotels scored higher than coffee shops for the top three factors that are important to people when choosing a co-working space.
55% of those surveyed say internet connection speed at hotels is very good or excellent. They were also rated as more comfortable places to work than coffee shops, with coffee shops found to be ten times louder than hotels.
Just under half of the people surveyed (46%) said that they would be more likely to use a hotel that has a dedicated co-working space, however, 1 in 4 felt that there aren't enough hotels that offer the facility. This suggests there's a gap in the market for hotels to market themselves as places that deliver what remote workers are looking for.
Dominic Osborne, General Manager at Aviator Hotel by TAG said;
"As many of our guests are elite travellers who are constantly on-the-go, we find it a priority for them feel comfortable working in our public spaces, whether that's alone or having a quick meeting with a client.
With the popularity of co-working areas in hotels on the rise, it's great to see how the hotel industry can provide more than just a place to stay but also an area to conduct business."
The top cities for co-working spaces
The survey revealed that certain cities are better catered to offer coworking – the top 5 include:

Leeds was found to be the top-rated city for co-working options based on their likelihood to use hotels which had dedicated remote working spaces. London followed closely behind. Belfast is the city that people co-work the most out of anywhere else in the UK.
One of the best in the city, Malmaison hotel in Leeds provides an exclusive vibe to all its guests with fantastic office facilities. They also offer 'pods' for private meeting space so you can collaborate with ease.
The Hoxton – Shoreditch, London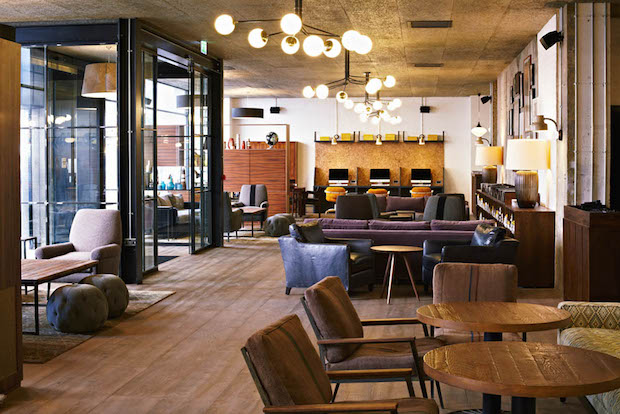 The Hoxton Hotel in the suburb of Shoreditch is a relaxed and rustic hotel which has a strong sense of individuality. The perfect place to plug in your laptop and perhaps grab a coffee from the grill restaurant, in house. They also offer specially designed spaces for meetings which you can book, with fully a stocked fridge and drinks – a great way to impress clients.
The Office Bar at the Titanic Hotel is not only lavished with a mix of contemporary and classic décor, it is the perfect spot for a client a meeting when you want to impress or a space to fire through some emails over a drink. The office bar is open to the public, or alternatively, you can book one of their 7 presentation rooms with opulent designs.
Kate Fuller, Marketing Manager at Guestline, said:
"It's exciting to discover hotels could be a new solution for people who work remotely within the UK. Traditionally, coffee shops have been one of the typical, go-to destinations, but we are seeing a huge shift in co-working behaviour, with people desiring spaces that are quieter and still have all the facilities they need to work efficiently and conduct meetings.
The research shows that hotels offer the three most important factors to people who co-work, which means it's time for hoteliers to get ahead of the game and create a designated co-working offering to maximise revenue and revolutionize the way people utilise their facilities."