Travel is back. But this isn't just a return to 'normal'; research is indicating this is the year of 'revenge travel' and making up for lost time. It seems the pandemic will have a lasting psychological effect on the consumer attitude toward travel, and the positive value it provides.
So, what's changed? What do hotels need to understand about the market in 2022? Here's everything you need to know.
Customer spending & demand is up
Looking at real booking data from Triptease's global hotel database, we can see that the number of people searching on hotel websites is now well above pre-pandemic levels, with bookings close to 2019 levels too.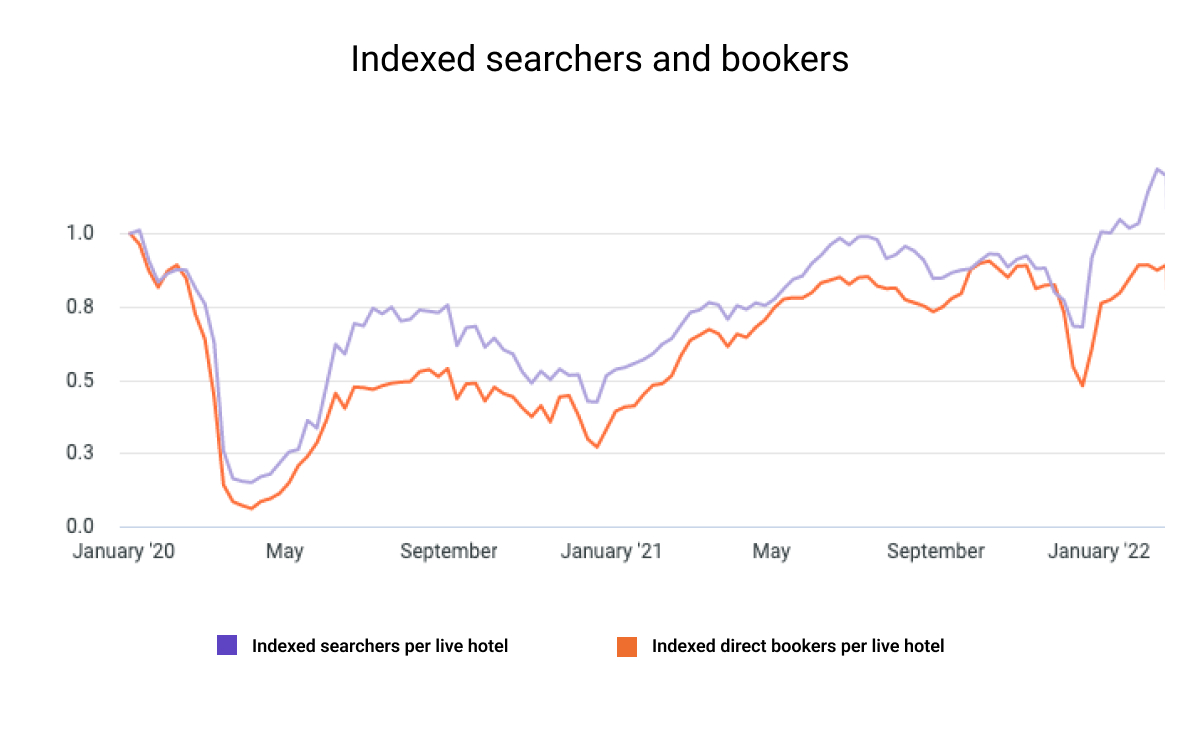 Additionally, it seems that customers aren't just booking more, they're booking bigger. After so many cancelled plans, travel companies are seeing a surge in 'once-in-a-lifetime' trips that travellers are willing to spend big for. Some 70% of leisure travelers in major countries — such as the US, the U.K., Canada, Japan and Spain — plan to spend more on travel in 2022 than they have in the past five years.
At Triptease, we'e seeing a marked rise in Average Booking Value (ABV) across all regions. While in some parts of the world such as APAC and EMEA (where Covid-19 is still impacting customer confidence and ability to travel) that uptick is a little slower, in NORAM it has skyrocketed. And as the pandemic continues to recede globally, we can expect the other regions to catch up.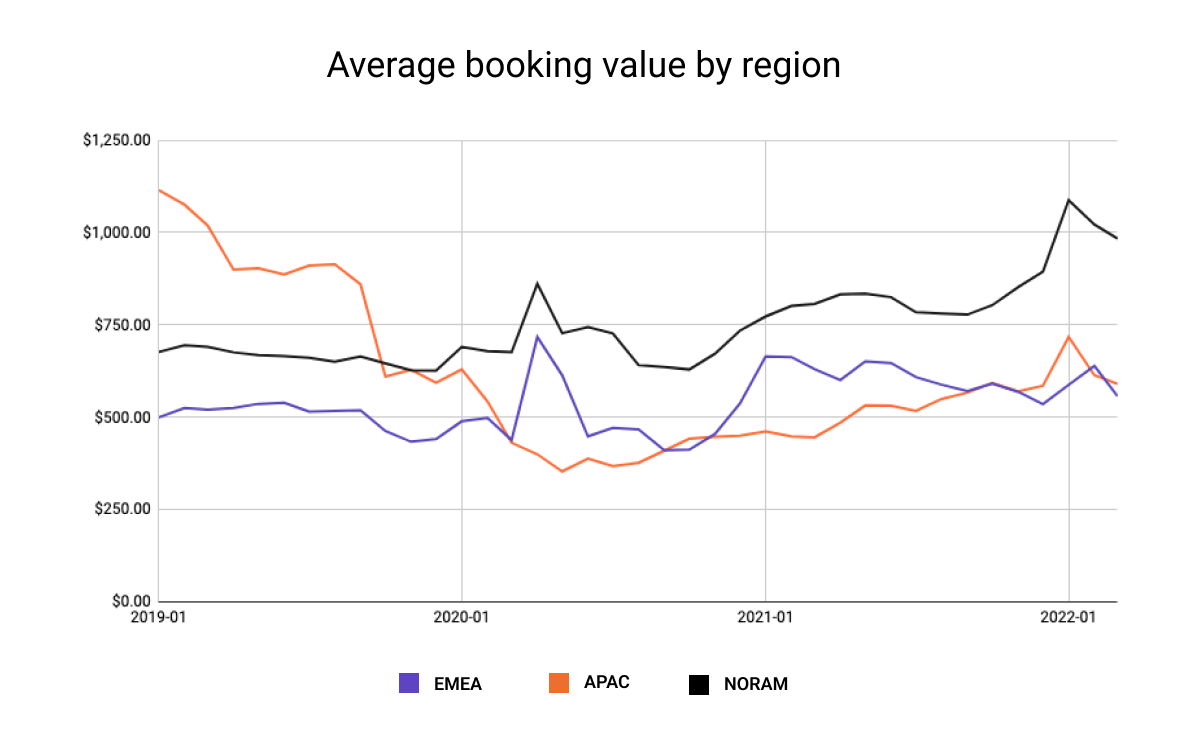 Google Search Trends are rising
And how are people searching for, planning and booking these trips? It all starts with Google.
Looking at data shared exclusively with Triptease, global travel demand is showing a steady increase in queries year on year, currently at +47% – making this channel more important for traffic acquisition than ever. Europe is at +70%, with the highest YoY growth verticals being: 'City breaks' +213%, 'Air travel' +144% and 'Holidays' +140%.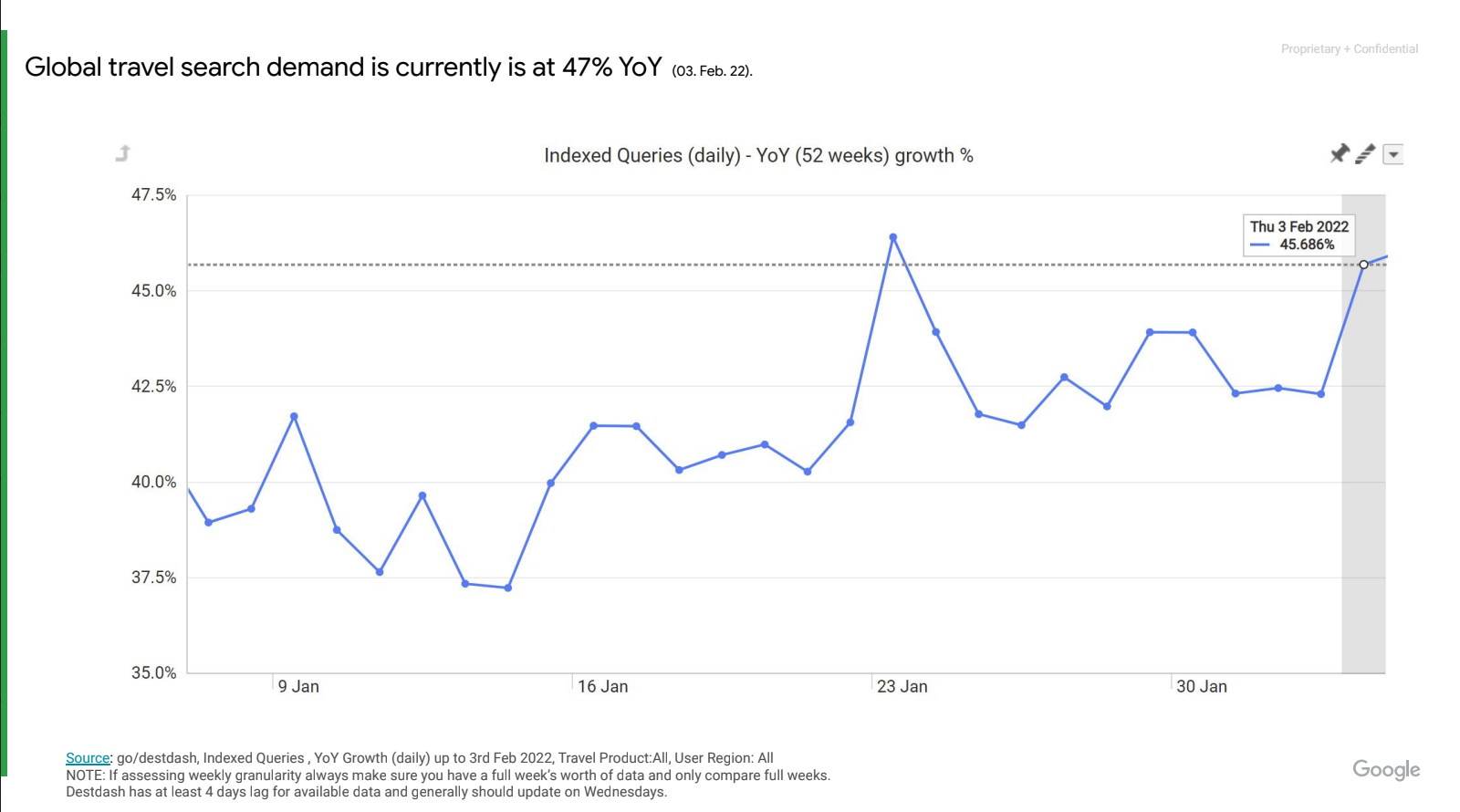 However, increased searches are also driving up the cost per click on paid search advertising globally: currently up +50% YoY. This means that, while Google presents the greatest opportunity for hoteliers to attract direct bookers, it can also become expensive if not managed properly. Does this mean the winners on Google can only be those with the biggest budgets? Not necessarily. Smart bidding can make a smaller budget go a long way if you know how.
Online Travel Agents (OTAs) are investing heavily
OTAs are well aware of these increasing costs, and are allocating budgets accordingly.
Since the start of this year it's been announced that Expedia Group's sales and marketing spend will increase 150% year-on-year to $1.3 billion.
Booking Holdings investment in marketing also saw significant growth at the end of 2021, almost doubling year-on-year to $1.38 billion in Q3. CEO Glenn Fogel said the company was benefitting from performance marketing channels, such as search engine marketing and display advertising – indicating this is where spend will be focused for them.
An unparalleled opportunity for hotels
Even though competing with these astronomical budgets may seem daunting, it's important to remember that it's an overall positive trend for the industry. If OTAs weren't confident in a full recovery, they wouldn't be investing so heavily. Overall, this is a good prognosis for everyone.
Industry thought leaders in all regions are predicting the shift from pandemic to endemic as overall performance seems to be moving back into regularity.
Given that demand and willingness to pay are at an all-time high, the most exciting opportunity for hotels in 2022 is ability to raise rates and drive up ADR. Average daily rate was at its highest level since October 2018 in the US, and $20 higher on a nominal basis than at the same time in October 2019.
This is particularly promising for hotels looking to grow direct bookings as they have a unique opportunity over OTAs. Since guests now value experience more than ever before, and the experience that your hotel provides is something only you can communicate, OTAs fall very short in being able to tap in to the unique selling points and brand personality of your hotel.
Are OTAs losing their grip?
OTAs have historically leveraged downturns to their advantage. They saw massive growth off the back of 9/11 in 2001 and the 2008 crash, as hotels lent heavily on their services to fill rooms. Given the huge budgets that OTAs are putting towards sales and marketing in 2022 it suggests they are expecting to leverage the pandemic in the same way, but there are signs that this may not work this time around.
OTAs' gross bookings and commissions have largely recovered relative to pre-pandemic 2019, but their problem is on the cost side. They've driven themselves into a huge hole on profitability. While revenue is coming back, EBITDA (Earnings Before Interest, Tax, Depreciation, and Amortization) and other profits are not coming back as quickly.
The reason for this? According to Skift's Senior Research Analyst, Seth Borko, "Hotels have maintained pricing power, and ADRs (Average Daily Rates) are nearly 90% recovered. OTAs' reputation for discounting has suffered as hotel direct bookings come with lower rates. And customers have more to spend."
But there are still challenges to your success
Exciting as these opportunities are, there remain undeniable challenges in the hospitality industry that could slow down a full recovery.
Staff Shortages
The first of these is on-going staff shortages, resulting in lack of time and internal resources.
For travelers, staff shortages can spell travel delays and a reduction in services, from fewer restaurant reservations to the elimination of daily housekeeping services. This is particularly problematic if holding on to a higher ADR. Consumers are willing to pay more, but you will need to be able to offer an experience that fully qualifies your price. Striking this balance could be key to your recovery.
Staying on top of market knowledge and insights
As an industry we're now acutely aware of the speed at which situations can change, and have changed over the last two years. Those who've been able to keep a constant pulse on developments and react swiftly have come out on top, and we don't expect that to change.
While the signs of recovery are very strong, a recent report from UNWTO makes it clear that we're not out of the woods yet, so remaining forward-looking and conscious of the changes in your market is still essential. This could be the case well into 2024, according to the World Tourism Organization.
A recent quote from Michael Grove, chief operating officer of HotStats, summed the situation up perfectly:
"New revenue opportunities are rearing their heads as things stand," Grove said. "Looking back at 2019 is not the way forward. Keeping an eye on how things progress and utilizing the fantastic tools we have available in the market to be able to monitor how things are changing on a monthly basis is vital. Otherwise, you're driving in the dark. We really need to keep focus on the current situation and stop looking backwards."
"Demand is coming back, rates are at record highs, capital is going back to the industry. Yes, Covid may have ended the golden age of travel, but the diamond age is just beginning."
While a recovery is on the cards, on some level hoteliers must resolve to live with unpredictability for a little while more. Understanding your customers and responding to their changing needs is the key but requires time, great data and creativity.
---
This post originally appeared on the Triptease website and is reproduced with their permission.